Description
Habit Tracker up to 31 days written in japanese
SVG build using Inkscape
Format is A4 but can be adapted.
For the moment it is 31 days, might update this page with 30, 29 and 28 days versions.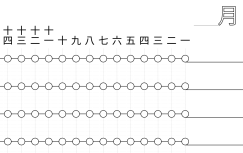 Legal info
CC-BY-SA
The project can be used free of charge but
the resulting modification must contain attribution and be shared under the same license.
Link to the license: \
Where to download
You can download it by being a subscriber
or heading to the awesome archive 😊